Verizon Communications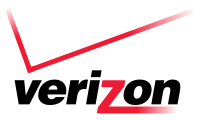 Verizon Communications Inc. (NYSE: VZ, NASDAQ: VZ) is a global broadband and telecommunications company and a component of the Dow Jones Industrial Average. It started in 1983 as Bell Atlantic (based in Philadelphia) with a footprint covering New Jersey to Virginia and NYNEX (based in New York City) with a footprint spanning from New York to Maine that emerged as part of the 1984 AT&T; breakup into seven "Baby Bells." Prior to its transformation into Verizon, Bell Atlantic merged with Regional Bell Operating Company, NYNEX, in 1997. The name Verizon is a portmanteau of veritas and horizon, and its pronunciation rhymes with horizon. The company's headquarters are located in the Verizon Building at 140 West Street in Lower Manhattan, New York City.
Source: Wikipedia
Campaign Finance
Information
Figures are based on itemized contributions reported to the Federal Election Commission and state agencies. Please note that:
contributions under $200 are not reported, and so are not included in totals.
only contributions from individuals and organizations to candidates are included. Various accounting measures and more exotic contribution types are excluded.
contributions are matched based on organization and recipient name reported within each election cycle. Contributions using an incorrect or non-standard version of the name may be missed.
corporate name changes and mergers may cause figures to differ from those of the Center for Responsive Politics.
organization totals include known subsidiaries of the organization.
For more information, please see our campaign finance methodology page. Lobbyist bundling data is described on our lobbyist bundling methodology page.
Latest FEC Data
covers through committee's May 31, 2012 filing.
Download all contributions to Verizon Communications
Summary

overview of the committee's finances

Total Raised:

$1,751,441

Total Spent:

$1,648,771

Cash on Hand:

$225,413

Debts:

$0
---
Standardized Donation Information
covers through 2011. may lag behind FEC section above, as donors and industries are identified by hand.
Top Recipients

Employee Color Block

Individuals

PAC Color Block

PAC

Includes contributions from the organization's employees, their family members, and its political action committee.

Republicans vs. Democrats

in dollars. "Other" includes 3rd parties and organizations without official party affiliation.

State vs. Federal

in dollars

Top PAC Recipients

Employee Color Block

Individuals

PAC Color Block

PAC

Includes contributions from the organization's employees, their family members, and its political action committee.
View all campaign finance data for Verizon Communications
Sources: OpenSecrets.org FollowTheMoney.org
Lobbying
$12,280,000 Spent
Information
Figures are based on lobbying activity reported to the Senate Office of Public Records. Reported dollar amounts are required to be accurate only to the nearest $20,000. For organizations whose primary business is lobbying, we display total income and top clients. For organizations that are not primarily lobbying firms, we display total amount spent on lobbying and top lobbying firms hired.
For more information, please see our lobbying methodology page.
covers through Q3, 2011
Lobbying On Behalf of Verizon Communications
Names of Lobbyists

| Firm Hired | Amount |
| --- | --- |
| Singer Consulting | $360,000 |
| DCI Group | $300,000 |
| Ogilvy Government Relations | $210,000 |
| Elmendorf Ryan | $190,000 |
| Livingston Group | $180,000 |
| Temple Strategies | $180,000 |
| Capitol Tax Partners | $150,000 |
| Glover Park Group | $140,000 |
| Mayer Brown LLP | $130,000 |
| Normandy Group | $130,000 |

Most Frequently Disclosed Lobbying Issues

Telecommunications,
Taxes,
Radio & TV Broadcasting,
Copyright, Patent & Trademark,
Fed Budget & Appropriations,
Health Issues,
Law Enforcement & Crime,
Consumer Product Safety,
Energy & Nuclear Power,
Finance
View all lobbying data for Verizon Communications
Sources: Lobbyist Registration Tracker OpenSecrets.org
Regulations
61 Mentions; 2 Submissions
Information
All data is based on documents downloaded from Regulations.gov. The first table shows mentions: all documents that include the name of the company anywhere in the document or document metadata. The second table shows submissions: all documents where the submitter metadata included the company name. Each table shows the top 10 dockets, ranked by number of occurrences.
Matches are based on a search for the company name. Variations in the company name, such as acronyms, nicknames or alternate names may cause documents to be missed. The mention of a company name in a document may be incidental and does not necessarily indicate that the company has any relevance to the document. Company names that are common English words may erroneously match with text that is not referring to the company.
Not all agencies submit public comments to Regulations.gov. For a list of participating and non-participating agencies see here. Agencies that do submit to Regulations.gov have varying levels of accuracy and completeness.
Regulations and public comments can be downloaded in bulk here.
updated from Regulations.gov on September 27, 2011
The tables show occurrences of "Verizon Communications" in public comments on proposed federal regulations.
Documents Submitted by the Organization

Submissions
Agency
Docket
Date

Mentions in Document Text

Mentions
Agency
Docket
Date

Toggle

43

NLRB

Proposed rule amending representation-case procedures

2011

Toggle

3

DOT

Order Soliciting Small Community Grant Proposals

2011

Toggle

3

EBSA

PTE 2011-16 Verizon Communications, Inc. (Verizon) and Cellco Partnership, doing business as Verizon Wireless (Verizon Wireless; collectively, the Applicants) [Application Nos. L-11651 and L-11652]

2011

Toggle

3

EBSA

PTE 2011-15 The United Brotherhood of Carpenters Pension Fund (the Plan or the Applicant) [Application No. D-11634]

2011

Toggle

2

EBSA

PTE 2011-14 The Krispy Kreme Doughnut Corporation Retirement Savings Plan (the Savings Plan) and the Krispy Kreme Profit-Sharing Stock Ownership Plan the KSOP; Together, the Plans or the Applicants) [Application Nos. D–11468 and D–11469, Respectively]

2011

Toggle

2

LMSO

Labor-Management Reporting and Disclosure Act; Interpretation of the "Advice" Exemption

2011

Toggle

2

FAA

Notice of Proposed Modification to the June 1, 2006 MOA FAA/Subscriber Memorandum of Agreement for ASDI/NASSI Industry Access and Request for Comments

2011

Toggle

2

BOEM

Commercial Leasing for Wind Power on the Outer Continental Shelf Offshore Rhode Island and Massachusetts – Call for Information and Nominations

2011

Toggle

1

FCC

Modernizing the Form 477 Data Program

2011

Toggle

1

FTC

Granting of Requests for Early Termination of the Waiting Period Under the Premerger Notification Rules

2011
Advisory Committees
10 people on 12 committees
Information
Data is based on disclosures required by the Federal Advisory Committee Act (FACA). Matches are based on the occurrence of the company name in the committee member affiliation. Variations in company names may cause some matches to be missed.
The table shows only the top 10 agencies. To search and download raw records from the complete dataset see the FACA data section.