National Education Assn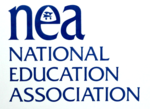 The National Education Association (NEA) is the largest professional organization and largest labor union in the United States, representing public school teachers and other support personnel, faculty and staffers at colleges and universities, retired educators, and college students preparing to become teachers. The NEA has 3.2 million members and is headquartered in Washington, D.C. With affiliate organizations in every state and in more than 14,000 communities across the nation, it employs over 550 staff and had a budget of more than $307 million for the 2006–2007 fiscal year. Dennis Van Roekel is the NEA's current president.
Source: Wikipedia
Campaign Finance
Information
Figures are based on itemized contributions reported to the Federal Election Commission and state agencies. Please note that:
contributions under $200 are not reported, and so are not included in totals.
only contributions from individuals and organizations to candidates are included. Various accounting measures and more exotic contribution types are excluded.
contributions are matched based on organization and recipient name reported within each election cycle. Contributions using an incorrect or non-standard version of the name may be missed.
corporate name changes and mergers may cause figures to differ from those of the Center for Responsive Politics.
organization totals include known subsidiaries of the organization.
For more information, please see our campaign finance methodology page. Lobbyist bundling data is described on our lobbyist bundling methodology page.
Latest FEC Data
covers through committee's January 31, 2011 filing.
Download all contributions to National Education Assn
Summary

overview of the committee's finances

Total Raised:

$8,498,812

Total Spent:

$3,085,741

Cash on Hand:

$5,699,625

Debts:

$0

Top Contributors

top donors giving over $100,000
---
Standardized Donation Information
covers through 2011. may lag behind FEC section above, as donors and industries are identified by hand.
Top Recipients

Employee Color Block

Individuals

PAC Color Block

PAC

Includes contributions from the organization's employees, their family members, and its political action committee.

Republicans vs. Democrats

in dollars. "Other" includes 3rd parties and organizations without official party affiliation.

State vs. Federal

in dollars

Top PAC Recipients

Employee Color Block

Individuals

PAC Color Block

PAC

Includes contributions from the organization's employees, their family members, and its political action committee.
View all campaign finance data for National Education Assn
Sources: OpenSecrets.org FollowTheMoney.org
Lobbying
$5,685,840 Spent
Information
Figures are based on lobbying activity reported to the Senate Office of Public Records. Reported dollar amounts are required to be accurate only to the nearest $20,000. For organizations whose primary business is lobbying, we display total income and top clients. For organizations that are not primarily lobbying firms, we display total amount spent on lobbying and top lobbying firms hired.
For more information, please see our lobbying methodology page.
covers through Q3, 2011
Lobbying On Behalf of National Education Assn
Names of Lobbyists

Most Frequently Disclosed Lobbying Issues

Education,
Fed Budget & Appropriations,
Taxes,
Labor, Antitrust & Workplace,
Retirement,
Government Issues,
Health Issues,
Medicare & Medicaid,
Civil Rights & Civil Liberties,
Law Enforcement & Crime
View all lobbying data for National Education Assn
Sources: Lobbyist Registration Tracker OpenSecrets.org
Regulations
14 Mentions; 5 Submissions
Information
All data is based on documents downloaded from Regulations.gov. The first table shows mentions: all documents that include the name of the company anywhere in the document or document metadata. The second table shows submissions: all documents where the submitter metadata included the company name. Each table shows the top 10 dockets, ranked by number of occurrences.
Matches are based on a search for the company name. Variations in the company name, such as acronyms, nicknames or alternate names may cause documents to be missed. The mention of a company name in a document may be incidental and does not necessarily indicate that the company has any relevance to the document. Company names that are common English words may erroneously match with text that is not referring to the company.
Not all agencies submit public comments to Regulations.gov. For a list of participating and non-participating agencies see here. Agencies that do submit to Regulations.gov have varying levels of accuracy and completeness.
Regulations and public comments can be downloaded in bulk here.
updated from Regulations.gov on September 27, 2011
The tables show occurrences of "National Education Assn" in public comments on proposed federal regulations.
Documents Submitted by the Organization

Submissions
Agency
Docket
Date

Mentions in Document Text

Mentions
Agency
Docket
Date

Toggle

4

NLRB

Proposed rule amending representation-case procedures

2011

Toggle

3

ED

Investing in Innovation Fund -- Revisions to Priorities, Requirements, and Selection Criteria

2011

Toggle

2

LMSO

Guidelines for the Use of Electronic Voting Systems in Union Officer Elections

2011

Toggle

1

ED

Family Educational Rights and Privacy

2011

Toggle

1

ED

Retrospective Review under E.O. 13563 -- Department of Education Preliminary Plan for Retrospective Analysis of Existing Rules

2011

Toggle

1

DOJ

Reducing Regulatory Burden; Retrospective Review Under E.O. 13563

2011

Toggle

1

CMS

Student Health Insurance Coverage

2011

Toggle

1

DOJ

National Standards To Prevent, Detect, and Respond to Prison Rape

2011

Toggle

1

CMS

Rate Increase Disclosure and Review (Premium Rate Review)

2011

Toggle

1

LMSO

Labor-Management Reporting and Disclosure Act; Interpretation of the "Advice" Exemption

2011
Advisory Committees
3 people on 3 committees
Information
Data is based on disclosures required by the Federal Advisory Committee Act (FACA). Matches are based on the occurrence of the company name in the committee member affiliation. Variations in company names may cause some matches to be missed.
The table shows only the top 10 agencies. To search and download raw records from the complete dataset see the FACA data section.